Color Foundation for the Painter: A Complete DVD Guide
Comprehensive Guide to the use of Color - 2 DVD Set - 13 Chapters. The series begins with a basic foundation and builds gradually to the more complex.
***Teaser Video*** on details page!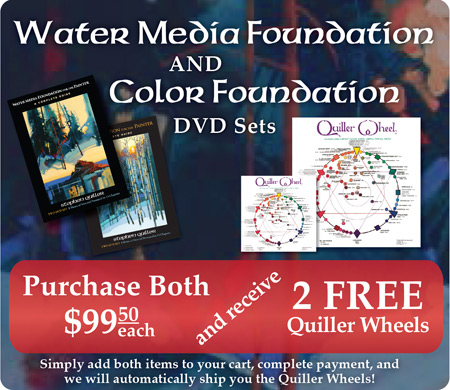 Stephen Quiller is an internationally known painter who is highly regarded for his research and implementation of color theory in his painting expression. He has written two best selling books on color, Color Choices and Painter's Guide to Color. The books have become leading texts in this field. These DVDs provide a comprehensive guide to the use of color for the painter. They begin with a basic foundation and build gradually to the more complex. The DVD set is formatted into thirteen chapters. Each chapter is approximately 35 minutes containing an introduction, chapter development, demonstration on the topic, two finished painting examples and three exercises for the viewer to complete. This DVD set is a complete course that will fine tune the artist's eye and help the painter grow in (*) personal expression. The instructional videos are designed to help all artists and craftspeople who want to expand their knowledge of color.
Disc #1
Chapter #1- Value- Intensity Foundation
Chapter #2- Monochromatic Color Relationships
Chapter #3- Complementary Color Relationships
Chapter #4- Analogous Color/ Color Families
Chapter #5- Double Analogous Color Relationships
Chapter #6- Triad Color Relationships" "
Chapter #7- Putting It All Together (finished painting demo) 

Disc #2
Chapter #8- Expanding the Palette & Characteristics of Pigments
Chapter #9- Different Ways to Apply Paint
Chapter #10 Neutrals, Near Neutrals & Blacks
Chapter #11 Unifying Color by Toning Paper or Glazing
Chapter #12- Using the Full Palette- Painting En Plein Air
Chapter #13- Finished Studio Painting/ Exploring Personal Expression
Customers who bought this product also bought
Customers who viewed this product bought